In metal finishing processes during stripping, chlorination, sealing and rinsing with hot water there is a huge heat loss. Our insulating Spartan® floats guarantee a large reduction in heat loss and large savings in energy costs. For an average sized plant the cost savings cover the outlay on floats within one month.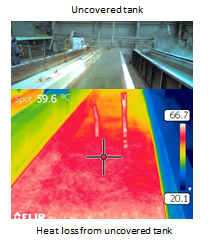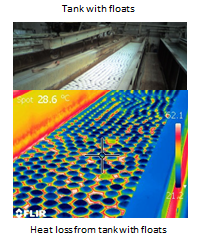 Spartan® floats are made from expanded polypropylene and are suitable for use up to 100° C. They are resistant to all chemicals used in metal surface treatment except for chromic acid.
Our insulation avoids splashing during the immersion of components. The components open a path for themselves without disturbing the rest of the floats. The floats do not block entry into the tank and settle back into place after immersion. Unlike the hollow balls alternative, our floats only need a single layer to cover the whole tank. During removal of components from the tank the floats do not jump out of the tank and are not lost underneath the tank or under the feet of the operators. They offer effective means of eliminating the vapour cloud that hovers over the uncovered surfaces. Emanations of harmful acids which do damage to installations and buildings are reduced. foul odours are suppressed.
MAIN FEATURES:
Large reduction in energy costs and fluid loss
Reduction in harmful fumes
Available in two sizes: 50mm and 100mm across the flats
50mm – 400 required per square metre
100mm – 130 required per square metre
Do not bounce off the surface of the tank
Smooth sides ensure formation of close fitting blanket
Suitable for use up to 100° C
Suitable for use with all chemicals commonly used in metal surface treatments except for chromic acid